ZACK - The Educational Cafe
ZACK – The Educational Cafe was 

established in the year 2015

, by 

Mrs. Jaanvi Devnani

 with the ambition to introduce a unique way of learning.
We got inspired by the name ZACK due to it's Hebrew origin – '
The Lord has remembered
', and the word '
Cafe
' denotes – '
A Relaxed Social Space
', since it gives the feeling of comfort and relaxation.
Thereupon, connecting these words together with 'Education' we got the name, 'ZACK – The Educational Cafe'.
To live up to our name we always try to make our institute a comfort zone for the kids so that whenever they enter, they are relaxed, cheerful, and secure, precisely how they would feel in their homes or at a cafe.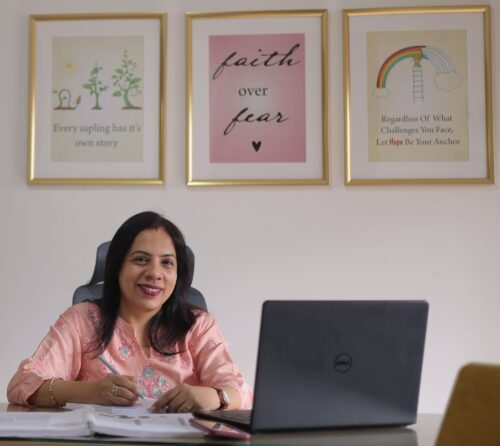 Mrs. Jaanvi Devnani
A trained special Education Teacher. Expertise in Curriculum Designing and exclusive strategies. Her skill sets are in the area of special education, mainstream education, and counseling for emotional, academic, social, and behavioral issues.
Remedial

Educator

Teacher Trainer

Student Advisor

Parenting Consultant
Masters in Counselling Psychology

PG Diploma in Management of Learning Disability

Montessori Training

Bachelor of Commerce
Certificate Course in Counselling [March 2017]

Jolly Phonics [April 2016]

Story Telling [April 2016]

Prafulta's Teacher Training in Remedial Education [May 2015]

Vedas Ignite Diploma Course in Special Education[April 2014]
Jr KG Teacher S.D planets [

Year: 2007-2008

]

Pre-Nursery Delhi Public school(D.P.S) [March-2008-August-2008]

PGLD Lecture in Vanita Vishram college [Year 2014-15]




(Subject-Inclusive Education)

P.R.Kathiwala School [December 2018-December 2019]




(Remedial Educator + Councellor)

T M Patel International School [March 2019-December 2019]




(Remedial Educator)
It's a good place for child development. It's really a kids educational cafe.
Best place to discover and enhance your kid's knack.
Best place to be with, work with and learn with.
Friendly institution with homely atmosphere.
A perfect hub of Excellence!!
Our strongest belief is ~
"To bring a change towards fearless education"
We believe that education should be delivered in such a way that it connects to the child while providing them with warmth and love. Because of our belief, we always try to make the child understand that life skills, behavior, and social skills are essential elements of education. We believe in conceptual learning rather than rote learning and gaining marks.
Every child is different.
Every child needs to learn.
Therefore, At ZACK The Educational Cafe, we aim to work on the individual needs of each child that walks in through our doors. We believe in 'Nurture according to Nature' and that is why we don't have one policy for all.
We personalize learning plans according to the needs of the child. Each child has potential, and through minute observations, we try to know their learning patterns and keeping their behavior in mind, we teach them.
Simply a quote says it all,
If a child cannot learn the way we teach, we must teach the way they can learn.
Initially the goal is to adapt the child in learning environment at ZACK. Academic skills such as reading,comprehending,learning, writing and use of information technology are taken care of, along with it our students are given systematic training to improve their skill-set, such as
Interpersonal relationships

communication skills

problem-solving technique

self-management

self-learning

independent thinking

creativity
By focusing on their
Multi-Sensory Approach

Time Management

Social Interaction

Building Confidence

Hands-on Experience
Parents are also involved in the process, regular meetings and feedbacks help us give a better outcome.
As the name suggests it is the base of all education, this plan is for ages three to five.
Recognition.

Phonics

Spoken English

Reading and Writing

English

Hindi

Math

Brain Boosting

General knowledge

Storytelling

Art and Craft

Educational Games and

Puzzles
Everything starts from basics and is monitored regularly to understand the jumps and fall a child may take to move.
Tuitions + Groom Them Smart

---

Our Academic pattern :

We work on individual approaches. Each subject level is noted.

Strengths are enhanced and Weaknesses are kept in mind, gracefully a journey starts by motivating them and helping them to overcome their weaknesses.
Efforts are put to enhance their skills in areas of academics, social, emotional, and moral behavior. Extracurricular activities such as drawing, crafts, library, etc help to upgrade student learning.
Students are motivated to self-study focusing on independent learning.
General Pattern Explanation, Oral, Written Practice, Regular Test.
Groom them smart is thrilling fun Saturdays for our kids. After studying for the entire week Saturdays are fun days for them. Festivals are celebrated and Activities such as role-play, public speaking, games and much more make a happy day for them.
Remedial education is also known as compensatory education, special education, special ed, and special needs education.
At ZACK, Individual Education Plan (IEP) is made in Remedial Education. The IEP focuses on the overall development of a child. We believe a learning difficulty student, has potential. It's just that through a well-planned IEP we improve skills and enhance abilities in each child.
*Batches offered

 





As we make personalized plans for each child we offer flexible batch times, from 9:30 AM – 6:30 PM, Monday to Saturday.
Goals towards better learning.  
Open Basic Education(OBE)Plan  The program provides elementary education at three levels and each level is for one year
The eligible age for level A is 7+ years and is equivalent to 3rd grade.

The eligible age for level B is 9+ years and is equivalent to 5th grade.

The eligible age for level C is 12+ years and is equivalent to 8th grade.
  ZACK is offering all Levels – A, B, and C of OBE And NIOS 10th and 12th.
*Only Morning Batch
We promote learning in a cultured environment, for which our center is equipped with:
Audio-Visual Room

Air-Conditioned Classrooms

Library

Dance Room

Pantry & Washroom Facility

Computer Lab

Group Interaction Area

Fire Safety

Art & Craft Zone

One-on-One Classroom
Our vision is to provide student-centered educational programs that challenge all students to perform at their highest potential.

We wish to prepare and motivate our students for a rapidly changing world by instilling in them clarity in thinking, a global perspective towards society, and a respect for core values of honesty, loyalty, perseverance, and compassion.

We shape them to work hard and succeed today and be prepared for the best tomorrow.
Our mission is to create a happy place where everyone is valued and respected.
We strive to prepare all students to become lifelong learners and responsible citizens,ready to meet the challenges of the future. 
In partnership with families and communities,our goal is to create relevant learning opportunities for students ,that help them develop knowledge, critical thinking skills, and character necessary to succeed in a technologically advanced world.